Tracing Transfer Paper Kit by Dritz Sewing Notion D645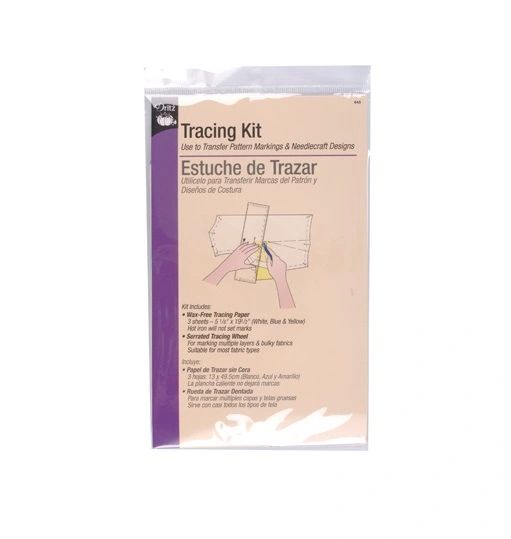 Tracing Transfer Paper Kit by Dritz Sewing Notion D645
Use to transfer pattern markings and needlecraft designs.

Kit includes:
Wax-Free Tracing Paper - 3 sheets - 5-1/8" X 19-1/2" (wht,blue & yellow) Hot iron will not set marks. Serrated Tracing Wheel - for marking multiple layers & bulky fabrics. Suitable for most fabric types.

TIPS - Always test tracing paper and wheel on swatch of fabric being used to be sure marks can be removed satisfactorily and wheel will not damage fabric. Use a color of racing paper close to the fashion fabric and mark on the wrong side of fabric. Avoid rubbing tracing paper with your fingers to prevent smearing. To keep fabric from bunching up, roll blade with forward, then slightly backward motion as you trace along line. Use a ruler as a guide for tracing straight lines.


~ Instructions ~

1.Work on protected hard surface.

2.Place tracing paper under pattern with colored side of paper toward the wrong side of the fabric, transfer pattern markings using tracing wheel. Apply even pressure.

3.To mark two layers of fabric, place two sheets of paper wrong side together and place under pattern between the two layers of fabric.

4.To remove marks, use fabric eraser, brush, damp cloth or machine wash.