Sulky Puffy Foam 2mm 6"x9" Assorted Item # PF2-AST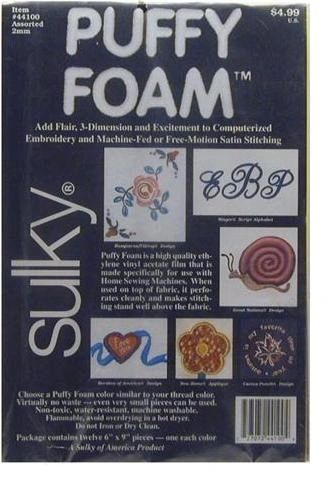 Sulky Puffy Foam 2mm 6"x9" Assorted Item # PF2-AST
Sulky® Puffy Foam™ will add flair, 3-dimension and excitement to computerized
embroidery and machine-fed or free-motion satin stitching.
This foam is a high quality ethylene vinyl acetate film that is made specially for
use with home sewing machines. When used on top of fabric, it perforates cleanly and
makes stitching stand well above the fabric. Non-toxic, water-resistant and machine washable.

Flammable, avoid overdrying in a hot dryer. Do not Iron or Dry Clean.
2mm 6"x9" Assorted- each package Contains twelve 6"x 9" pieces-one color each piece.