Stay Tape by Collins 1/2" x 10 Yard Roll Item # C77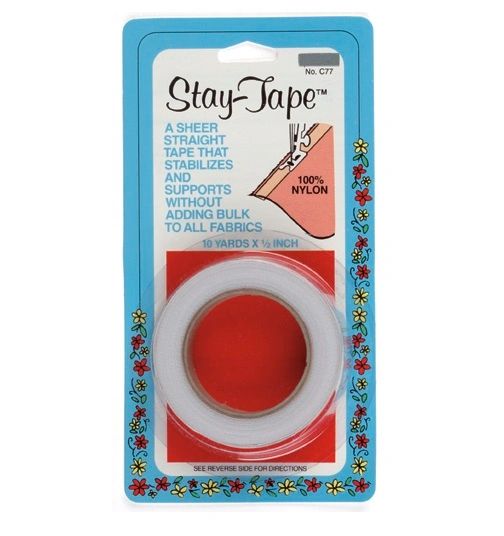 Stay Tape by Collins 1/2" x 10 Yard Roll Item # C77
1/2" Wide x 10 Yards Length. Stay Tape™ is a sheer straight tape for use on all fabrics especially fine, sheer and knit fabrics where stabilizing and support is needed. Stay Tape stabilizes and supports without adding bulk to all fabrics. It can be cut to a narrow width without fraying. 100% Nylon - Preshrunk - Washable - Dry Cleanable - Colorfast

A. Sew Stay Tape to back of neck to stabilize and add strength. Apply the tape after
center back seam has been sewn and pressed but before shoulder seams are stitched.

B. Stitch Stay Tape into seam of lapel and across roll of lapel to keep label curve from
sagging and to support roll of lapel. Set in pocket - Attach stay Tape to back corner of
pocket and other end to armhole seam allowance to keep pocket area from becoming baggy.

C. When setting pockets into seams-after stitching pocket and facing together, sew
Stay Tape into seam to keep curve of pocket from stretching.