Quilter's Curved Needles by Collins Item # W-326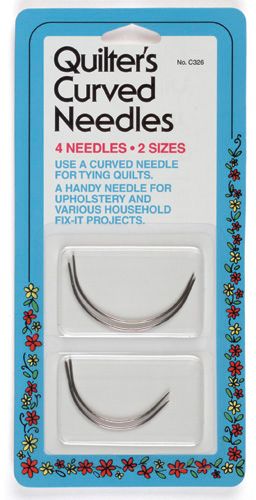 Quilter's Curved Needles by Collins Item # W-326
4 curved needles per package. 2 sizes. Use for tying quilts and for upholstery projects.


~ Instructions ~


Curved Needles For Tying Quilts Curved needles are ideal for tying or tufting quilt layers together.

1. Select fine yarn, embroidery floss or buttonhole twist.

2. Make a single 1/4" stitch through all layers of the quilt. Leave a 3" tail.

3. Backstitch through the same holes.

4. Tie yarn ends into a square knot and trim ends. Space ties about 4" to 6" apart.

Curved needles can also be used for upholstery and other craft projects.