Olfa 6.5" Right Triangle Non-Slip Frosted Ruler RTF-6RT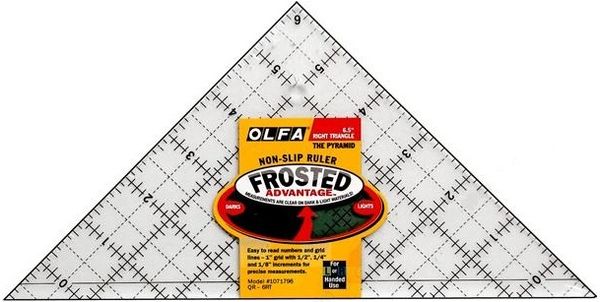 Olfa 6.5" Right Triangle Non-Slip Frosted Ruler RTF-6RT
OLFA, Non-Slip, Frosted Advantage™ Acrylic Rulers are not your ordinary rulers! OLFA's rulers are non-slip for stable and safe cutting and frosted with black grid lines for clarity on light- and dark-material.

"The Pyramid", 6.5" Right Triangle, is ideal for cutting triangles, diamonds, and hexagons with precision, and can be used in place of templates for your favorite quilt blocks. Great for Flying Geese, Star of Texas, Ohio Star patterns, and many more.

The easy to read number and grid lines with 1" grids and 1/8" increments ensure precise measurements. For right-and left-handed use.