Marti Michell Just Half Square Triangles Set M8030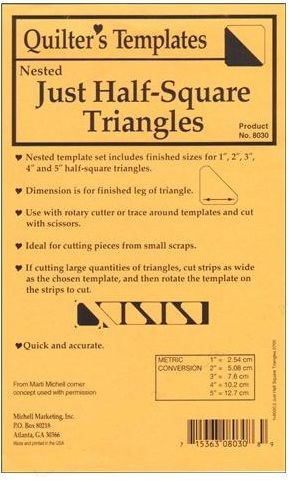 Marti Michell Just Half Square Triangles Set M8030
Marti Michell Templates include full size quilt templates of precision laser-cut acrylic. A 1/4" seam allowance is already added.

Can be used with rotary cutter or scissors. These wonderful tools are perfect for hand or machine piecers. Nested Half Square Triangle 1"-5"

Package contains 5 pieces for producing finished half-square triangles of 1", 2", 3", 4", and 5". Dimension is for finished leg of triangle. Ideal for cutting pieces from small scraps.

Half square triangles in full inches, with metric conversions. Fits with Just Squares and Just Quarter Square Triangles.

Set includes seam allowances and feature the same corner concept you've come to expect with all Marti Michell's templates.