June Tailor Simple Circles Template Rulers 6 PC Set Item # JT303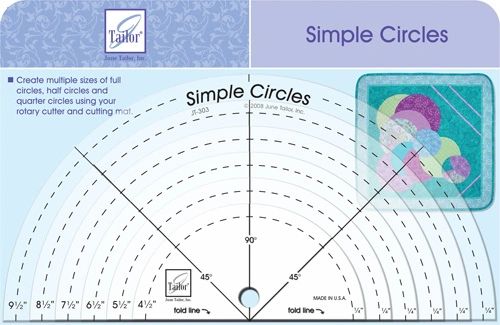 June Tailor Simple Circles Template Rulers 6 PC Set Item # JT303
June Tailor® Rulers are designed to help make quilting and sewing projects easier and more efficient. Creating fashions are quick, easy and lots of fun with each wonderful ruler. Use your rotary cutter and mat, and you're on your way to creating beautiful quilts, hats, scarves, tabletoppers and more.

Simple Circles 6 pc- Create multiple sizes of full, half, and quarter circles using your rotary cutter and cutting mat. Templates includes 1/4" seam allowances. Create inset circle blocks or easy applique circles. Also great for marking circular stitching designs on quilts. Finished sizes 9", 8", 7", 6", 5", and 4".

Acrylic templates come with a hole in the bottom center so you may keep them together with the enclosed length of ball chain.