June Tailor Get Squared Ruler 8-1/2" x 4-1/2" Item # JT743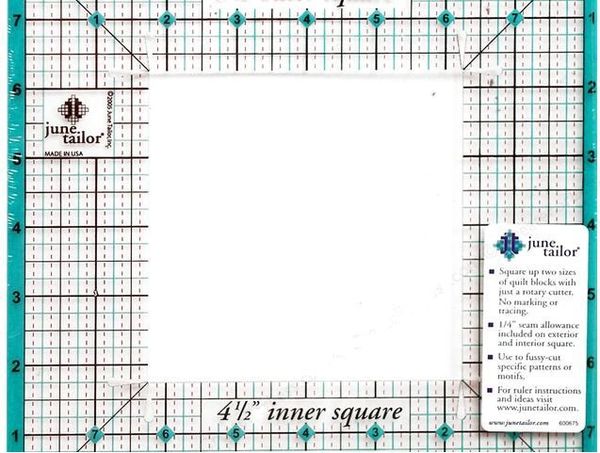 June Tailor Get Squared Ruler 8-1/2" x 4-1/2" Item # JT743
June Tailor® Rulers are designed to help make quilting and sewing projects easier and more efficient. Creating fashions are quick, easy and lots of fun with each wonderful ruler. Use your rotary cutter and mat, and you're on your way to creating beautiful quilts, hats, scarves, tabletoppers and more.

Get Squared™ 8.5"/4.5"- Square up 2 sizes of quilt blocks, an 8 1/2" outer square and a 4 1/2" inner square with just a rotary cutter! No need for marking or tracing. Includes a 1/4" seam allowance on the exterior and interior square.

This ruler is perfect to fussy-cut specific patterns or motifs! June Tailor® rulers have three ink colors; Black for 1 and 1/2", Teal for 1/4" and Fuchsia for 1/8" markings.