HeatnBond UltraHold Iron-On Adhesive Tape 5/8" x 10 Yards Roll L3509/58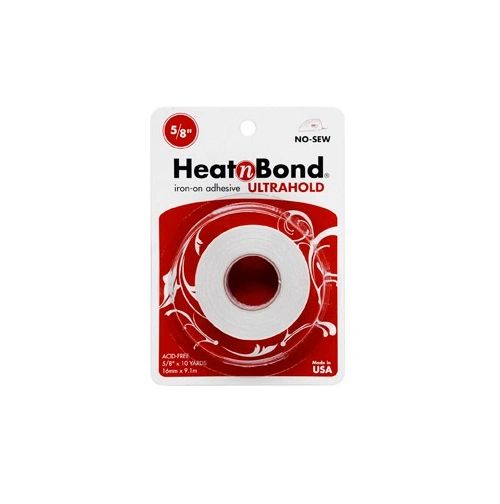 HeatnBond UltraHold Iron-On Adhesive Tape 5/8" x 10 Yards Roll L3509/58
This iron-on adhesive is the crafters choice over traditional fusible webs. It has a no-sew bond that is 3 times stronger than other webs. Adhesive can be used with a wide range of materials such as fabric, foil, lame, felt, suede, cardboard, leather and wood.


---

•Fusible adhesive is 5/8" x 10 yards.
•Perfect for craft and home decorating projects.
•Has a low temperature/short pressing time.
•Edges do not need to be sealed.
•HeatnBond UltraHold is an outstanding no-sew heat activated adhesive
•Materials won't lift or pucker.
•Materials can be machine washed.
•Available in sheet form, tapes and bolts
•Try HeatnBond Lite for use with projects which require a sewn finished edge and
lightweight fabrics.


Directions for HeatnBond Ultrahold Tape Rolls

NOTE: Before using HeatnBond UltraHold, always PRE-WASH all materials WITHOUT using
fabric softeners (in washer or dryer). Always pre-test adhesive on materials.
1.Pre-heat iron to low heat setting without steam.

2.Place adhesive, paper side up on the back (otherwise known as the wrong side) of
material. Press and hold iron on paper side of adhesive lightly for 2 seconds. Slide iron
to new area and repeat until entire surface is bonded.

3.Allow material to cool. Peel off paper backing.

4.Place material adhesive side down in desired position on top of project. Press & hold
iron for 8-10 seconds on each section until entire piece is bonded.