HeatnBond Iron-On "Super" Adhesive Hem Tape 3/4" x 8 Yards Roll L3723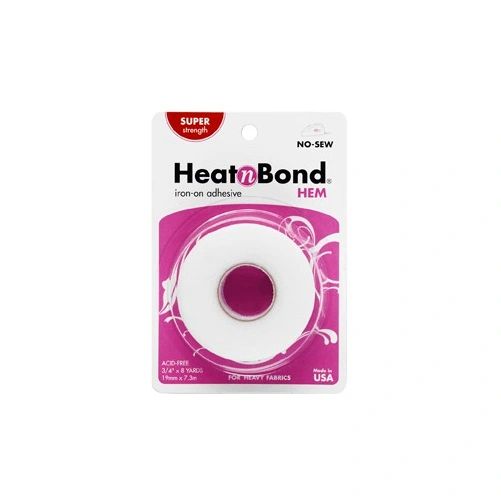 HeatnBond Iron-On "Super" Adhesive Hem Tape 3/4" x 8 Yards Roll L3723
HeatnBond Hem is a roll of iron-on adhesive without paper backing designed for projects that require a finished hem.

•Makes hemming easy without a needle or thread.
•Creates a clean, secure hem in seconds.
•Use Regular Weight for lighter fabrics such as:cotton, rayon polyester blends and acrylic fabrics.
•Great for use in home decor projects or for apparel repair.


---

Directions for No Sew - Hem Tape

NOTE: Before using HeatnBond Hem, always PRE-WASH all materials WITHOUT using fabric
softeners (in washer or dryer). Always pre-test adhesive on sample materials.

1.Pre-heat iron to low heat setting without steam.

2.Turn item inside-out or over (Pants and Skirts would be turned inside out, Curtains
would simply be turned over).

3.Measure & press the hem into the fabric.

4.Place HeatnBond Hem tape (rough side down) on the inside of the folded hem. (Think of
it as a "Glue Sandwich" your folded fabric acts as the two slices of bread, and the
glue goes on the inside like the cheese would.)

5.Press and hold iron lightly for 3-5 seconds. Slide iron to new area and repeat until entire
surface is bonded.

6.Turn item right side out and iron hem for additional 3-5 seconds.