Free Motion Big Foot for Baby Lock Sewing Machine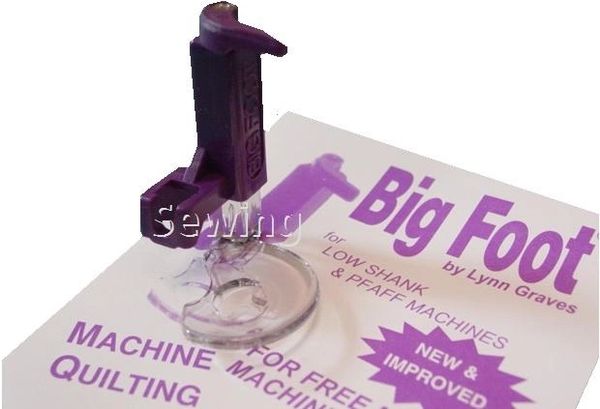 Free Motion Big Foot for Baby Lock Sewing Machine
Product Description
.....................................................................................


BIG FOOT™ Free-Motion Foot

Big Foot by Lynn Graves, for Free-motion Quilting

BIG FOOT™ is a giant darning foot designed to give you more control when free-motion machine quilting. Lower your feed dogs when using BIG FOOT™. Cover with an index card or business card if you cannot lower feed dogs.

The large clear foot makes it easier to follow continuous line quilting patterns because of excellent visibility. You have more contact with the fabric sandwich which will give you better stitch control. Sew at a steady, medium speed.

From the center of the unique T-shaped slot it is approximately 1/4" to either end of the slot. This provides a guide for echo quilting.

The BIG FOOT™ is great for all of the following.......

•Echo quilting
•Free-motion quilting
•Quilting with free-motion stippling
•Outline quilting
•Sashiko quilting
•Trapunto quilting
•Broderie perse applique
•Bobbinwork
•Embroidery with free-hand stitching
•Monogramming with free-hand stitching
•Reverse embroidery with free-hand stitching
•Making corded lace with free-hand stitching
•Needlelace with free-hand stitching
•Battenburg lace
•Cutwork
•Needleweaving
•Free-motion shirring with elastic
••••••••••••••••••••••••••••••••••••••••••••••••••••••••••••••••••••••••••••••••••••••••
Fits the following models of Babylock....
•B15 (B15)
•B17 (B17)
•Ellageo (BLL)
•Quilter's Choice (BLQC)
•Quilter's Choice (BLQC2)
•Ellure (BLR)
•Ellure Plus (BLR2)
•Espire (BLSR)
•Esante 1 (ESE)
•Esante 2 (ESE2)
•Ellageo 1 (ESG)
•Esante (ESI)
•Esante 2 (ESI2)
•Ellure (ESL)
•Encore (ESN)
•Espire (ESP)
•Intrigue (INT)
•B21 (B21)
•BL1550 (BL1550)
•BL1556 (BL1556)
•Denim Pro (BL16)
•Denim Pro (BL18)
•BL2160 (BL2160)
•Design Pro (BL22)
•Design Pro (BL23)
•Creative Pro (BL37)
•BL6150 (BL6150)
•BL6200 (BL6200)
•BL6300 (BL6300)
•Xscape (BL66)
•BL6600 (BL6600)
•BL6700 (BL6700)
•BL6800 (BL6800)
•BL7800 (BL7800)
•BL8800 (BL8800)
•Crafter's Choice (BLCC)
•Crafter's Choice (BLCC2)
•Decorator's Choice (BLDC)
•Decorator's Choice (BLDC2)
•Ellegante (BLG)
•Ellegante 2 (BLG2)
•Ellegante 2 (BLG2-NZ)