Easy Scallop Tool by EZ Quilting Item # 7292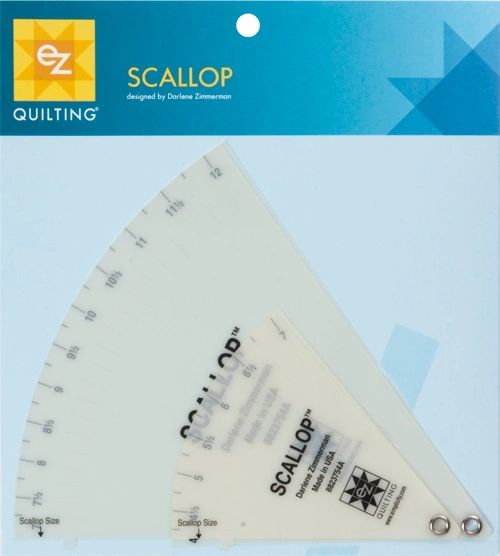 Easy Scallop Tool by EZ Quilting Item # 7292
Wrights EZ Easy Scallop Adjustable Template- Mark scalloped borders on any size quilt quickly and easily, in sizes from 4" to 12". Instructions included. 2 different sized tools.

Using the Easy Scallop
Mark scalloped borders on any size quilt quickly and easily.
Measuring
Measure the length of the border.
Step 1: Choose desired number of scallops. Divide the border length by that number. This will give you scallop size.
Border length divided by number of scallops=scallop size.
Round the answer to the nearest quarter inch. Set the Easy Scallop™ tool at that measurement you have chosen.
Marking
Step 2: To mark a rounded corner, begin at one corner and mark a full scallop. Mark from both ends toward the center, so if any adustments need to be made, you can make them in the center (Diagram A).
To mark a pointed corner, begin at one corner and mark a half scallop, leaving the corner square. Again, mark from both ends toward the center (Diagram B).
Binding
Step 3: Do not cut on the marked line!
Quilt, then before binding, hand-baste along the marked scallop line. This will keep the layers from shifting when the binding is sewn on.
Step 4: A bias binding is a must for binding curved edges. Cut your binding strips at a 45 degree angle, and join with diagonal seams pressed open. A single binding cut at
1-1/4" will finish to 1/4".
Step 5: Press the beginning edge under 1/4". With right sides together and the raw edge of the binding aligned with the marked border, begin stitching a 1/4" seam at the top of the scallop.
Step 6: Stitch to the base of the V, stop with the needle down at that point. Lift the presser foot, pivot the quilt and binding to begin sewing out of the V. Put the presser foot down and sew out of the V, taking care not to stitch any pleats in the binding.
Step 7: Continue around the quilt in this manner, easing the binding around the curves, not stretching it. Overlap the beginning edge by 1", trim off at an angle.
Step 8: Trim the seam allowance even with the edge of the binding. Turn the binding to the back side, turn under 1/4" and stitch down by hand, covering the stitching line. The inside corners will just fold over upon themselves automatically.