Clear Invisible Nylon Thread by Collins W-324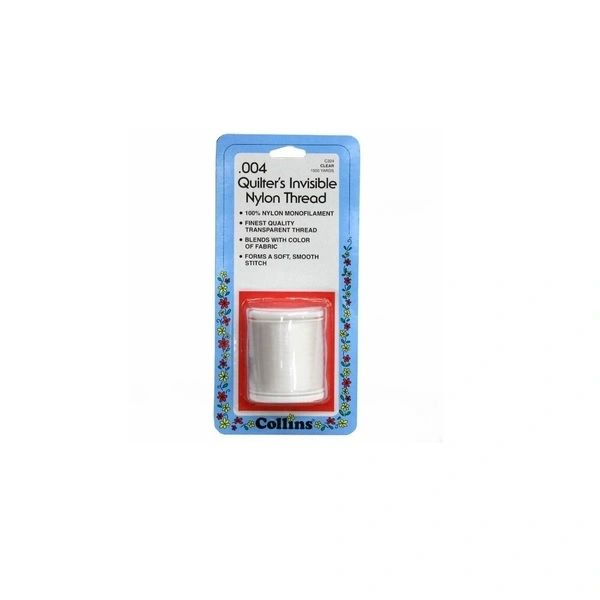 Clear Invisible Nylon Thread by Collins W-324
100% Nylon Monofilament. Finest quality transparent thread. Blends with color of fabric. Forms a soft, smooth stitch.


~ Instructions ~


Invisible nylon is a single transparent filament of the finest, highest quality nylon. It is soft and


sewable

, forming a smooth, strong, balanced stitch. The thread takes on the color of each fabric
it is sewn into. This soft invisible nylon can be used either on the top of the sewing machine, in the
bobbin or on

sergers

.

Machine-quilting - Use invisible thread in the top of machine with 100% cotton thread in the bobbin.
Slightly loosen the top tension to allow for the weight difference. Invisible thread doesn't require high
thread tension. Invisible nylon gives machine quilting a hand quilted appearance.

Invisible

applique

by machine - Invisible nylon is used in the top of machine with 100% cotton in the
bobbin. Use the blind hem stitch on your machine to attach an

applique

.

Bobbin work is a technique using heavy decorative threads that will not go through the top of the
machine through the bobbin. Wind the decorative thread on the bobbin and put invisible nylon thread on
the top. Sew upside down to create a multitude of decorative stitching on the right side of the fabric.

Couching - Invisible nylon is also used to couch heavy decorative threads, yards and ribbons with a
zigzag stitch. The decorative threads will look like they are floating.

Serging - This versatile thread is also used in many serging techniques. It can be used in the lower
looper for tightening down a rolled edge.

Invisible nylon eliminates the color matching problem.
It's also clean, leaving no dust, dirt or lint to clog machine.